When you need to put together video, and put it together quick, you need Splitt! This is the video splicing application for OS X that lets you cut your movies into an arbitrary number of segments. Splitt features easy organization, segment previews and precise navigation mode, which gives you frame-accurate control over the length of each segment. This update features a new segment preview panel, individual segment sharing and greater feedback for preventing errant segment creation.
Douglas A. Welton, einstein's legacy Chief Product Officer says
The philosophy behind the creation of Splitt was to build a simple and effective product that could chop a video up into an arbitrary set of clips ... We've stayed true to that philosophy by only adding a small number of essential features that are focussed on making the user more productive.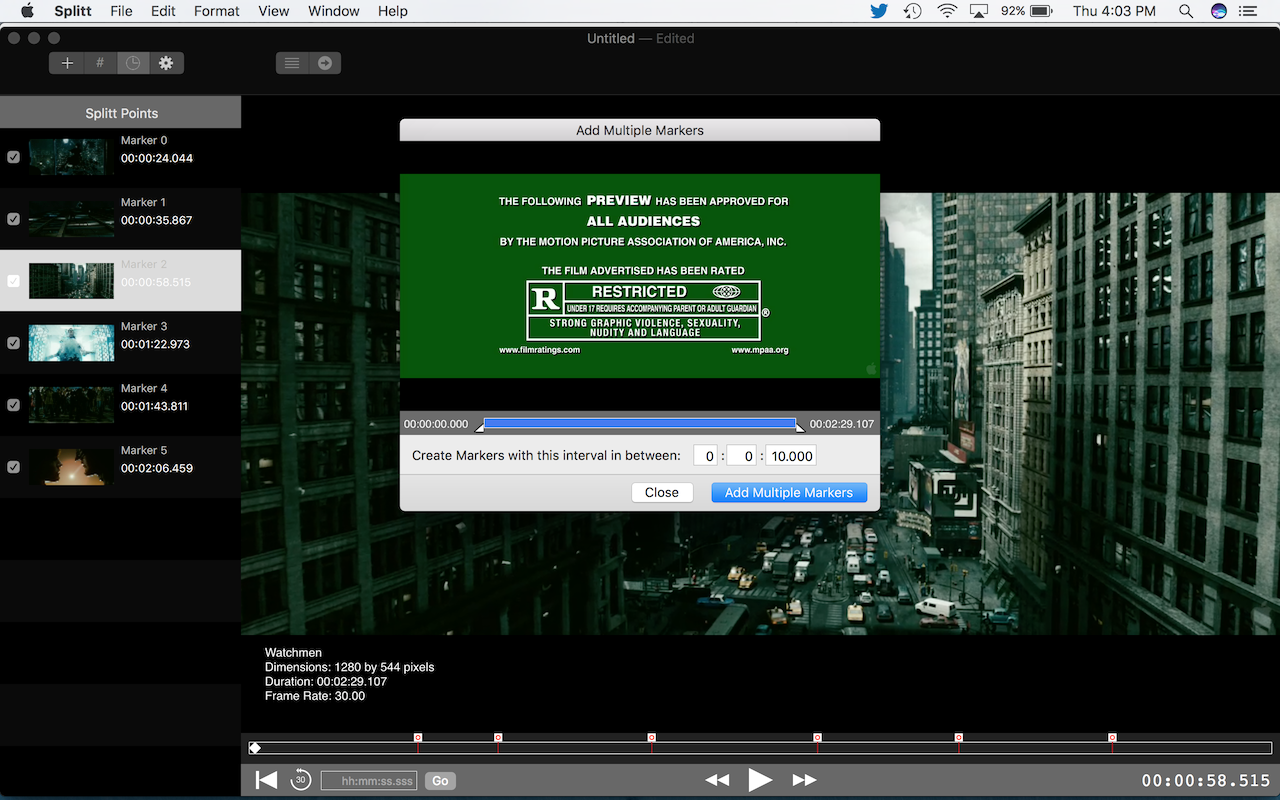 What's new in this version?
New segment preview panel (with playback options)
Small segment indicator
Segment sharing
In-preview movie information
Enhanced social media connectivity
Version 1.1.1 fixes the following high-visibility bugs:
Movie playback rate inconsistencies
Window resizing
Splitt 1.1.1 includes the following key features:
Easy Organization - Drag'n'drop the splitt markers to position them at the desired time for creating movie segments
Precise Navigation - Double-click the splitt markers to set segment begin and end points with frame-level accuracy
Modern Codecs - Create new movies in a variety of formats for a range of devices and playback situations
Segment Previews - Create a list of segments and their attributes before exporting to ensure you are getting what you expect
System Requirements:
OS X 10.11 (El Capitan) or later
64-bit processor
1.6 MB

Pricing and Availability: Splitt 1.1.1 is available for $9.99 USD (or equivalent amount in other currencies) and is available worldwide from the Mac App Store in the Video category. For more information, please contact Douglas Welton.

Category: video
einstein's legacy: Splitt

Splitt Download Trial: splittDemo.zip

Splitt
---
Charlotte, North Carolina - At einstein's legacy, we make cool Macintosh Applications for video, images and quartz compositions for creative professionals. einstein's legacy v2.0, LLC is located in Charlotte, NC. Copyright (C) 2011-2017 einstein's legacy. All Rights Reserved. Apple, the Apple logo, Macintosh, iPhone, iPod, iPad and Mac OS X are registered trademarks of Apple Inc. in the U.S. and/or other countries. Other trademarks and registered trademarks may be the property of their respective owners.