Karelia Software has released iMedia Browser 2, a major new update to its popular iMedia Browser, a free utility that adds the familiar "media browser" experience to just about any Mac app.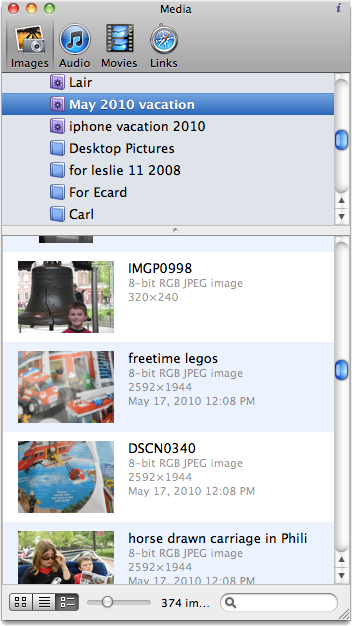 Built from the ground up to resemble the media browser found in several Apple applications, the Karelia iMedia Browser is a stand-alone utility that can be used to quickly access a user's library of photos, sounds, movies, or bookmarks. Now rewritten from the ground up, iMedia Browser 2 adds a new, searchable Flickr browser and boasts a completely new architecture geared for speed.
iMedia Browser 2 allows fast, seamless browsing of photo libraries (including iPhoto, Aperture, Lightroom, Flickr, and Pictures folders); music (iTunes, GarageBand, and Music folders); movies (iTunes, iPhoto, and Movies folders), and bookmarks (Safari and Firefox). Browse items and zoom in with QuickLook, or drag items you find into any productivity application. iMedia Browser 2 can be activated either from the dock or from a small icon in the menu bar.
Dan Wood, President of Karelia Software said
We're excited about the responsiveness of this new version, which we built by teaming up with Boinx Software for the open-source framework at the core of the program ... Browsing is now blazing fast, which opens up a whole world of possibilities in getting quick access to your digital libraries.
Device Requirements: * Mac OS X 10.6.6 or later * 1.6 MB -- Pricing and Availability: The Karelia iMedia Browser 2.0 is free and available worldwide exclusively through the Mac App Store in the Utilities category.
Karelia Software: iMedia Browser 2.0

Download iMedia Browser from iTunes

Screenshot (large)
---
Karelia Software is the California-based company that originally brought you Watson, the ground-breaking Macintosh Web utility, winner of the MacWorld "Eddy" and the Apple Design Award for "Most Innovative Application." Karelia is headed by Dan Wood and Terrence Talbot. We joined forces to create Sandvox when we realized that even for the technically inclined, it was just too painful to get words and pictures on the Web. Copyright 2011 Karelia Software. All Rights Reserved. Apple, the Apple logo and Macintosh are registered trademarks of Apple Inc. in the U.S. and/or other countries.