For this year's color edition, we gathered our favorite book excerpts by the experts in digital imagery. Enjoy : * Converting to Black and White Using Camera Raw * Cropping to a Specific Size in Adobe Photoshop CS5 * Dealing with Ghosting in Merge to HDR Pro in Adobe Photoshop CS5 * Keeping Great Color When Emailing or Posting Photos to the Web * Using the Color Replacement Tool in Adobe Photoshop CS5 * Elaine Weinmann and Peter Lourekas on Color Replacement * Using the HUD Color Pickers * Converting Color When You Print ... and more
Adobe Photoshop CS5 Book for Digital Photographers
Are you ready for an amazing new version of The Photoshop Book that breaks all the rules?
This major update to Scott Kelby's award-winning, record-breaking book does something for digital photographers that's never been done before -- it cuts through the bull and shows you exactly "how to do it." It's not a bunch of theory; it doesn't challenge you to come up with your own settings or figure it out on your own.
Instead, Scott shows you step by step the exact techniques used by today's cutting-edge digital photographers, and best of all, he shows you flat-out exactly which settings to use, when to use them, and why. That's why the previous editions of this book are widely used as the official study guide in photography courses at colleges and universities around the world.
Free chapter excerpts:

Converting to Black and White Using Camera Raw

Cropping to a Specific Size in Adobe Photoshop CS5

Dealing with Ghosting in Merge to HDR Pro in Adobe Photoshop CS5

Keeping Great Color When Emailing or Posting Photos to the Web

Here's the full book description
Using the Color Replacement Tool in Adobe Photoshop CS5
The Color Replacement tool lets you change color, hue, saturation, and luminosity values, except instead of using a dialog as you do with Replace Color, you apply changes manually with a brush. You can also specify mode, sampling, limits, and tolerance parameters for the tool.
And unlike the Brush tool, which applies flat colors, the Color Replacement tool tries to preserve the original texture as it changes colors. This tool, like the Replace Color and Match Color commands, is especially useful to advertising and catalog designers.

Book Excerpt : Elaine Weinmann and Peter Lourekas on Color Replacement

Here's the full book description
Adobe Digital Imaging How-Tos: Using the HUD Color Pickers
Dan Moughamian describes Photoshop CS5's two new HUD (or Heads Up Display) color pickers that enable you to choose colors on the fly, rather than having to visually target and click on the small color wells in the Tools panel.
The Hue Strip looks and works much like the standard Color Picker dialog box, but without the various text fields. There is a strip along the right side for choosing the hue, and a square color ramp at left that allows you to choose a specific shade or tint for that hue.

Book Excerpt : Dan Moughamian: Using the HUD Color Pickers

Here's the full book description
Photoshop CS5 for Photographers: Converting Color When You Print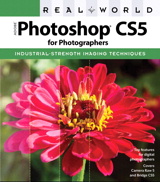 his excerpt from Real World Adobe Photoshop CS5 for Photographers shows you how to convert colors as Photoshop sends an image to a printer.
In the Print dialog, Photoshop can convert colors as it sends an image to a printer. The Photoshop conversion is usually superior to letting the printer driver do the conversion. You can convert either from the document space to a selected printer profile using a selected rendering intent or from the document space to a selected Proof Setup space using the rendering intent specified in Proof Setup, and then to the printer profile.

Book Excerpt : Conrad Chavez - www.peachpit.com

Here's the full book description
More to come ...
We'll be adding lots more over the next week or so -- don't miss the whole series -- bookmark this page and return next week!
And, thanks for reading
Don't forget ... we encourage you to share your discoveries with other readers. Just send and email, contribute your own article, join the Design Cafe forums, or follow DTG on Facebook!